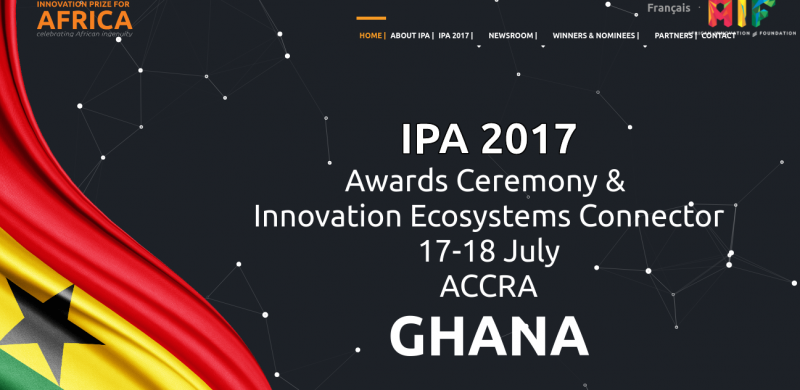 Innovation Prize for Africa is hosting the 6th edition of the Innovation Prize for Africa (IPA) Awards Ceremony & Innovation Ecosystems Connector from the 17th – 18th of July in Accra, Ghana.
IPA, which is an African Innovation Foundation initiative, was started in 2012 so as to nurture African ideas and innovations. It also seeks to strengthen African innovation ecosystems and foster economic prosperity throughout African sprouting from innovations from Africa for Africa.
The IPA awards focus on sectors which are mainly agriculture, health, the environment and resources as well as ICTs.
The African Innovation Foundation (AIF) for this year's awards collaborated with the Government of Ghana and its Ministry of Environment, Science, Technology and Innovation (MESTI), Ghana Investment Promotion Centre (GIPC), and Ghana 60 Years On Planning Committee to host the innovation event
The award ceremony will be running under the theme "African Innovation: Investing in Prosperity".
IPA awards have been previously held in Addis Ababa, Ethiopia (2012), Cape Town, South Africa (2013), Abuja, Nigeria (2014), Skhirat, Morocco (2015) and more recently in Gaborone, Botswana (2016).
Among the nominees, the most notable innovations include Nokwethu Khojane, from South Africa with Lakheni, a way of turning social capital into buying power, Nzola Swasisa, from Democratic Republic of Congo with Lokole, "a device that enables access to efficient email communication anywhere with cellular coverage at a price that is one hundred to one thousand times cheaper than accessing email via regular cellular bandwidth costs."
For this year's edition, the grand prize is US$100 000, second prize US$25 000, special prize for Social Impact US$25 000, A voucher for each of the seven IPA nominees of US$5 000
and additional incentives include investment opportunities, training and access to vibrant network of innovation enablers, ongoing PR support and media coverage.
Article by Nelson Madzima