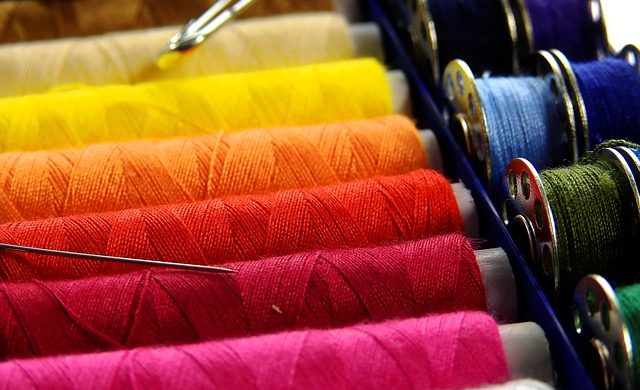 There have been various innovations which have changed the way fabrics and clothing have been manufactured. Starting from the power loom, spindle, weaver's beam to modern day sewing machine, innovation has been the major driving force in the way fashion trends have evolved over time.
We may not all be able to afford all the clothes we want unless you decide to become a vanity slave but clothing is a necessity to say the least. There have been some remarkable and noteworthy innovations in fashion. Most stores and retailers are adapting the technology age. CISCO seems to want to help with the use of innovation in the fashion. In San Francisco, there are shops which allow customers to use touchscreen monitors to swipe through outfits, and when choosing the style and size they prefer, the outfit is immediately brought to the dressing room.
In the manufacturing industry and designs, fashion is also considered as a multi-billion-dollar industry. Amongst the beneficial innovations in fashion include AirDye, eco-comfy clothing, Le Tote, wearable technology, pH indicating clothing, personalized shoes, and biocouture growing textiles.
With AirDye, the revolutionary, cost-efficient sustainable technology that enables water-free dyeing and printing on textiles. It is made up of various proprietary technologies that make custom coloration and printing easy and effective. It solves the modern-day problems of excessive water pollution and clean water scarcity, and provides customers with a sustainable and responsible method to colour and print fabrics.
Eco-comfy clothing comes in the form of the brand, I am not a virgin, which attempts to improve the environment and bring social awareness to the street style of America's urban cities. It reflects on a fact, that society throws away 200 billion plastic bottles a year, each bottle takes nearly 500 years to decompose. They take these bottles, and through recycling process turn them into eco-comfy line of clothes. Bottles out of the oceans and off the streets. They recycle plastic bottles with Polyester then blend them with cotton to create a lusciously soft fabric.
With regards to Le Tote, a personal designer, the main concept is always to find something new to wear. Le Tote will send you a new batch of clothes, jewellery and accessories expertly selected by a personal stylist each month. It collaborates with top designers and also offers customer friendly returns policy.
Innovators such as Pauline van Dongen have come up with concepts like wearable technology. Pauline van Dongen is a Dutch fashion designer specializing in wearable technology. For the Wearable Solar project, a coat and a dress have been designed placing solar cells close to the body. The two wool and leather prototypes comprise parts with solar cells which can be revealed when the sun shines or folded away and worn invisibly when they aren't directly needed. Apparently, the technology can charge your smartphone to 50% battery capacity.
pH indicating clothing, Rain Palette, is a natural cabbage dyed dress that could act as a pH indicator when rain falls onto the fabric. It aims to provide an approach to visualising air quality through rainwater. It comes with a smartphone app that allows people to scan and upload colour changes to a cloud based database. This will update the rest of the world with real-time environmental data about the rain. This project aims to provide an at-a-glance indication of atmospheric air quality, with the potential for wearers to record and upload rain pH readings online to create a global database of real-time environmental data.
The Left Shoe Company combines technology with traditional craftsmanship to reinvent made to measure shoes for the 21st century. They produce individual shoes for each person – each pair is personalized to each customer's feet and taste. To join our stylish ranks, the customer pulls on a pair of geometrically patterned socks and steps on a 3D scanner that analyses and measures both feet from every possible angle.
Of note, in 2016, global outdoor lifestyle brand Timberland announced a partnership with responsible fabric manufacturer Thread, furthering both brands' longstanding commitment to environmental and social responsibility. Crafted from plastic bottles collected in Haiti and Honduras, Thread™ Ground to Good™ fabric challenges how the world thinks about recycled PET. Going beyond environmental sustainability, Thread also creates social value in the form of cleaner neighbourhoods and job creation for thousands of people. The partnership – the largest to date for Thread – will bear its first fruit in spring 2017, with a collection of Timberland® footwear and bags made from Thread™ fabric.
Designer and fashion innovator Suzanne Lee melds biology and fashion by creating Biocouture growing textiles. It is based on investigation of growing the clothing through the use of bacterial cellulose. Clothes are grown out of organisms like bacteria, yeast, fungi and algae. Biocouture clothes and shoes are not only biodegradable, but can be composted and discarded in the same way as vegetable peelings
Other notable innovations are Spinali Design: Essential Vibrating Jeans, Under Armour Athlete Recovery Sleepwear, Gap's Dressing Room App, and Wair: Anti-Pollution Scarf.
Wearable tech firm Spinali Design has essential vibrating jeans which use vibration to alert its wearer. Equipped with two vibrating sensors on the belt, the jeans connect to the user's smartphone via Bluetooth and use vibration to tell the wearer when to turn left or right, or when they have an incoming call, text or email. The jeans are machine washable and have a battery life of up to 4 years as they got into sleep mode when not in use.
US sportswear company Under Armour unveiled a sleep and recovery system, which consists of its first sleepwear collection and a new UA Record App. The sleepwear contains TB12 in the lining to maximize comfort and fit and help the body recover faster. The sleepwear is supported by an update on the UA Record app, which help the user track their sleeping patterns and offer detailed analysis.
Under Armour also unveiled three new connected trainer designs, which work together with its UA app. The shoes, a follow-up to models released last year, measure the wearer's fatigue levels, track runs, distance covered as well as cadence using sensors built into the trainers. When the wearer does a number of squat jump, the trainers are also able to offer advice on what type of running the wear should do, based on muscle recovery needs.
Wair is anti-pollution scarf, which protects it wearer from main air pollutants. The scarf, which comes in an array of patterns and styles, features a triple layer filter which stops micro-particles, pollen, gazes and bacteria. The scarf connects to the Supairman app, which reminds the wearer when they need to change the filter and shares information concerning the quality of air they are in as well as a pollution index.
Finally, we have the US fashion retailer, Gap unveiling its new augmented reality app at CES 2017, which offers customers the freedom to try on a new outfit without having to step foot in a store or leave the comfort of their home. The Dressing Room app lets shoppers virtually try on items of clothing using their smartphone. Customers can select one of five body types featured to try on a Gap article of clothing virtually to see what it looks like on the body and how it fits. Afterwards, customers are redirected to Gap's website or shopping app to purchase the product online.
Article by Nelson Madzima.