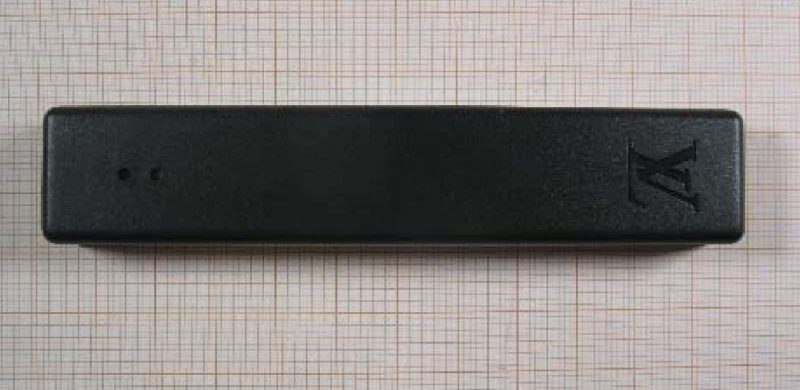 People who are worried about whether their designer luggage will make it onto the baggage carousel at their destination need be concerned no longer: upscale maker Louis Vuitton has just released a tracking device, which is yours for a few hundred dollars.
The Louis Vuitton Echo is on sale now for $370, comes in two colours and promises peace of mind. It tracks luggage through an airport, on landing, and notifies travellers of its location and whether it was opened during the trip. It works with the LV Pass smartphone app, and automatically switches itself to airplane mode while flying.
It's been designed to go with LV's Horizon 50, 55 and 70 ranges of suitcases, which start at $2,800 for a cabin bag and up to $4,650 for a customized larger case. The internet-connected device can be clipped into a pocket inside the bags or used with regular luggage.
French company Sigfox is behind the technology that powers the Echo device, and it can be used in airports in the U.S., Europe, South America and parts of Southeast Asia. China, where shoppers make up 32 percent of the world's luxury buyers, is not yet on the list.
Smart luggage is a small but growing part of the $6 billion global luggage market, where suitcases feature USB ports that travellers can use to charge their cell phones. But some airlines in the U.S. are restricting their use if the lithium-ion batteries can't be removed.
The Louis Vuitton Echo is just over four inches long, under an inch wide and just over half an inch deep. You can see a full list of which airports support the Sigfox technology that powers the Echo here, and when luggage is within those airports, users can monitor where their bags are and see if they've been opened through the LV Pass app. The device has a six-month battery life and comes with three years of Sigfox service. However, the Louis Vuitton Echo is, naturally, a bit pricey. It costs $370 and is available now.
Sigfox developed its Monarch service to allow companies to track devices all over the world, for example logistics businesses that want to track their fleets globally. The technology works using local radio frequencies. In the past year, Louis Vuitton has been dipping its toes into fashion tech, starting with introducing its $2,450 Tambour Horizon smartwatch last summer. Now, it's released something a bit more accessible (but still ridiculous) in price: a $370 luggage tracker called the Louis Vuitton Echo. The device lets you track your suitcase via the LV Pass app, available on both Android and iOS, and it comes with a three-year service subscription to Sigfox. The Sigfox subscription allows you to the track your luggage at various airports globally.
Once you land, the app notifies you of the position of your luggage and whether it was opened during the trip. The LV Echo is meant to work with the luxury brand's Horizon line of suitcases, and it has a light sensor that detects when your luggage is opened. This works when the device is inserted along the Horizon luggage's hinge in the dedicated elastic band. The device also has an automated built-in airplane mode, so it doesn't transfer data while in flight. Airlines like Delta have played around with luggage tracking before using RFID tags.
The device is relatively minimal. The only branding on the black bar is the LV logo at the top, and the stick has a light sensor, a battery indicator, an on / off switch, and a charging port. The LV Echo charges via Micro USB, and Louis Vuitton states it has six months of battery life from a one-hour charge. The company notes that Sigfox is planning to add more airport connectivity, so you'll be able to track your suitcase at more airports in the future.
While the cost is a bit steep, if you're already paying $4,300 for an LV suitcase, a $370 accessory is arguably one of the cheaper goods you'll walk out of a Louis Vuitton store with